An online promotion event of China International Fair for Trade in Services for ASIA-PACIFIC countries was held in 2022
The 2022 China International Fair for Trade in Services (CIFTIS) online promotion event for Asia-Pacific countries was successfully held on June 24. The event was hosted by Beijing International Service Trade Affairs Center and organized by Capital Exhibition Group of Beijing North Star  Company Limited. 126 representatives from government agencies, business associations and enterprises from 17 Asia-Pacific countries and regions attended the event.
Beijing Center for International Trade in Services has introduced the 2022 Service Trade Fair. The 2022 SERVICE Trade Fair will be held in Beijing in September in an "online and offline" way. It will focus on the hot trends of service trade and hold global service trade summit, exhibition, forum, promotion and negotiation, results release and supporting activities.
Capital Exhibition Group focused on telecom, computer and information services, financial services, education services, sports services, supply chain and business services. Bank of China, as a global partner of FSTC, reviewed its activities in 2021 and said it will continue to support FSTC in 2022.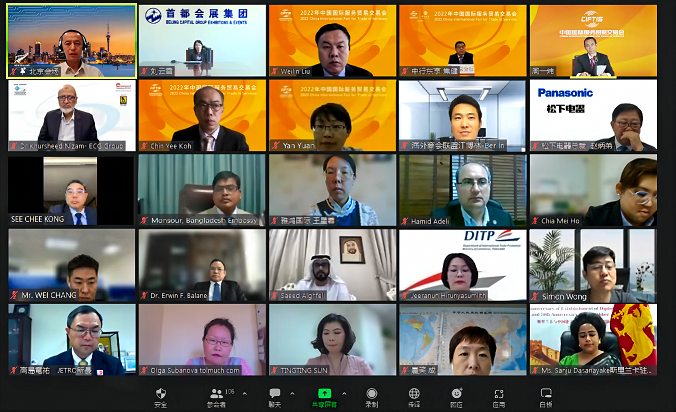 Malaysia, Australia, New Zealand, the united Arab emirates, Sri Lanka 5 asia-pacific countries embassy in China, Thailand and the Philippines national tourism administration of the Ministry of Commerce for the promotion of international trade hall, the Japan external trade organisation speak guests around their national service trade advantage characteristics and achievements of previous clothing trade will participate in and clothing trade in 2022 will participate in the program are introduced. Among them, the Australian Embassy in China said that it will set up a national booth in the name of the country for the first time in 2022, to show Australia's world-class service sector; This year marks the 50th anniversary of the normalization of china-japan diplomatic relations, and as part of a series of celebrations, the Japan National Booth will be set up at fSMA 2022, according to the Japan Trade-Promotion Agency.
Panasonic, Singapore Eye, Pakistan E-commerce Co., LTD., and Malaysian Borneo Agricultural Cooperative Society shared their latest features and achievements in green and low-carbon energy, telecommunications, computer and information services and business services.
This online promotion event is the tenth "Cloud promotion" activity of THE 2022 Service Trade Fair. In the future, we will continue to hold online promotional activities and release the latest information of THE expo in a timely manner.