Zhuhai International Convention and Exhibition Center successfully completed its first reception for foreign leaders
Recently, a delegation of foreign leaders and business visitors to Zhuhai, led by Mr. Liu Guangyuan, Commissioner of the Office of the Commissioner of the Ministry of Foreign Affairs in the Hong Kong Special Administrative Region, arrived in Zhuhai. During this period, Zhuhai International Convention and Exhibition Center, entrusted by Beijing Convention and Exhibition Group, undertook the service task of "Meet in Zhuhai Night" promotion.
This is the first large-scale joint visit by foreign leaders and the business community. Zhuhai International Convention and Exhibition Center actively links upstream services, provides whole-case services for activities, communicates with the organizer for many times, provides professional advice in event planning, site coordination, building services, atmosphere layout and other aspects, and constantly polish and optimize the on-site activity implementation plan, so that the organizer can feel the temperature and quality of enterprise conference services. The conference service team also specially invites foreign affairs reception expert lecturers to conduct systematic training for all service guarantee personnel and constantly improve their business level. In the reception, the venue is clean and comfortable, and meticulous service can be seen everywhere.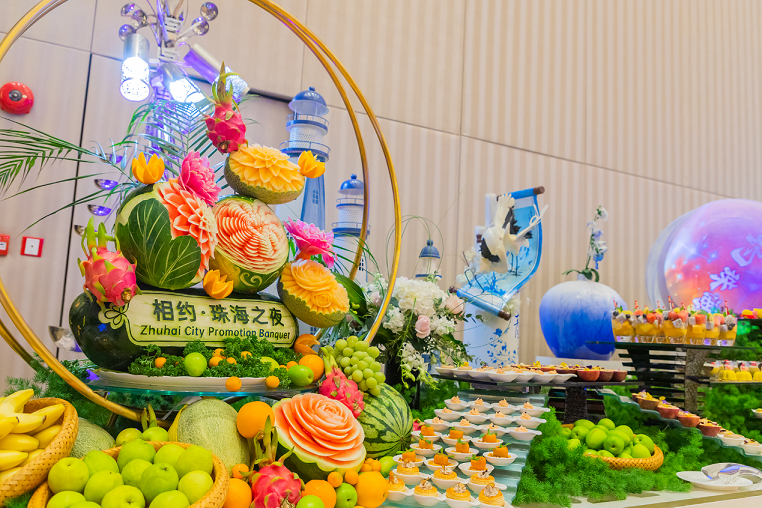 Enterprise star catering team carefully designed, presented a wonderful dinner for guests from all over the world. The two sides of the pavilion are divided into Chinese dim sum area and Western dessert area. Guests can feel the different charm of Chinese and Western food when tasting dessert. At the starting point of the dessert area, the fruit and vegetable carving produced by the art kitchen perfectly presents the dignified and elegant posture of the national flower peony, which attracts the eyes of many guests. In terms of dishes, the catering team fully considers the dining habits of guests, strictly follows the halal norms when cooking various beef and mutton dishes, and makes great efforts in the production of Decca, specially adding color logo, so that guests can easily identify whether the dishes contain beef, lamb, seafood and other ingredients.
In addition, the security and other departments earnestly completed the daily operation and service guarantee work with full enthusiasm, which provided strong support for the stable operation of the venue and the successful reception of the event.